NSA, CISA, and FBI detail Chinese State-Sponsored Actions, Mitigations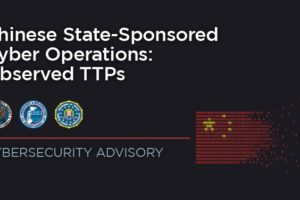 The National Security Agency (NSA), Cybersecurity and Infrastructure Security Agency (CISA) and Federal Bureau of Investigation (FBI) released a Cybersecurity Advisory, Chinese State-Sponsored Cyber Operations: Observed TTPs. This advisory describes over 50 tactics, techniques, and procedures (TTPs) Chinese state-sponsored cyber actors used when targeting U.S. and allied networks, and details mitigations.
Chinese state-sponsored cyber activity poses a major threat to U.S. and allied systems. These actors aggressively target political, economic, military, educational, and critical infrastructure personnel and organizations to access valuable, sensitive data. These cyber operations support China's long-term economic and military objectives.
One significant tactic detailed in the advisory includes the exploitation of public vulnerabilities within days of their public disclosure, often in major applications, such as Pulse Secure, Apache, F5 Big-IP, and Microsoft products. This advisory provides specific mitigations for detailed tactics and techniques aligned to the recently released, NSA-funded MITRE D3FEND framework.
General mitigations outlined include: prompt patching; enhanced monitoring of network traffic, email, and endpoint systems; and the use of protection capabilities, such as an antivirus and strong authentication, to stop malicious activity.