ESA and the City of Essen collaborate to protect urban and suburban areas with the power of space-applications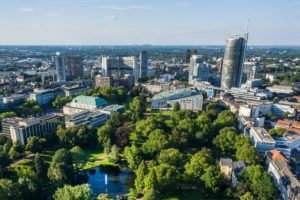 The City of Essen and the European Space Agency (ESA) are cooperating to promote the development of space-applications in support of the development and the protection of urban environments in a sustainable manner. As a priority within the sustainable urban development, the focus will be on the natural green protection in urban and suburban areas, climate change challenges, biodiversity protection, sustainable urban mobility, circular economy, and support of growth of a sustainable green and digital economy by leveraging satellite and terrestrial networks.
The first joint initiative that has been launched through this cooperation is an Invitation To Tender for companies to propose space-based applications which can contribute to whether and to what extent green spaces can be effectively integrated into smart city planning and urban green management, be monitored regarding their status and their impact on the surroundings and preserved as natural capital to maximise benefits for all citizens. The City of Essen has been crucial for the definition of the key application areas.
The Lord Mayor of the City of Essen, Thomas Kufen, is looking forward to the cooperation and the opportunities it entails: "Urban green infrastructure improves water management during extreme precipitation events, has a positive impact on air quality, mitigates extreme summer temperatures, and provides recreational spaces. In times of climate change it is more important than ever in context of urban development, which must be rethought in a global context. The services developed with ESA will help us to observe, understand and sustainably adapt our local environment and its interdependencies."
Rita Rinaldo, Head of the Partner/Thematic led Initiative of Space Solutions Programme in ESA, added: "working with the City of Essen gives us the opportunity to foster the development of space applications with the aim of making our cities greener, while boosting sustainability and infrastructure, protecting the environment and creating shared value for citizens. We are confident that this cooperation will showcase the potential of space to deliver green value thanks to innovative space-based solutions with environmental and socio-economic benefits at scale."