List V: Informing the global maritime community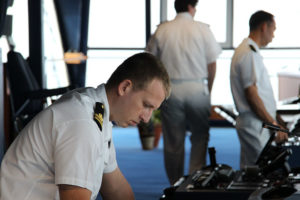 The International Telecommunication Union (ITU) has released the latest edition of its key global maritime publication – List of Ship Stations and Maritime Mobile Service Identity Assignments. Well known among ship operators, the annual publication has helped keep seafarers safe and informed for nearly a century.
Commonly referred to as List V, this publication contains crucial contact information and other administrative and operational data on over 900,000 ship-borne radio stations around the world.
The publication and accompanying software enable users to retrieve operational data about any given ship – such as its name, call sign, Maritime Mobile Service Identity (MMSI), and phone number, along with the vessel type, tonnage, number of passengers or crew, and onboard radiocommunication equipment.
This key maritime compendium lists port authorities and rescue coordination centers with their shore-side contact information. List V also includes identification codes for search and rescue aircraft and contact details for accounting authorities.
Rescue mission critical
If disaster strikes, List V is a vital tool that can help maritime authorities quickly recognize ships in distress and coordinate rescue operations.
Increasingly, the ITU publication also exposes vessels giving false distress alerts – a growing problem for the maritime community.
List V information that is fed into the Global Maritime Distress and Safety System (GMDSS), which then sends alerts to search and rescue authorities, helps keep the maritime environment safer for ships, crews, and passengers everywhere.
List V history
The history of List V begins at the International Radiotelegraph Conference held in Washington, DC, in 1927. That conference introduced the first provisions related to maritime publications into the Radio Regulations – the treaty maintained by ITU to govern radio frequency assignments worldwide. Shortly after, ITU began publishing its List of Ship Stations and List of Callsigns.
ITU's lists were substantially updated after the 2007 World Radiocommunication Conference to reflect evolving maritime technologies and enhanced safety protocols. The ship station and callsign lists were then consolidated into a single publication, the first edition of which was issued in March 2011.