Telcos strengthen India's disaster preparedness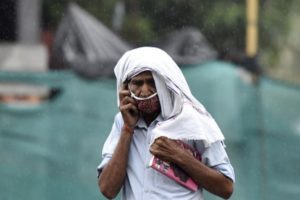 When Cyclone Tauktae struck India's western coastal areas several months ago, it brought mass destruction of property and disrupted daily life in five Indian states.
Despite the storm's 'extremely severe' designation, the damage and loss of lives were less than expected. This was thanks in large part to national disaster preparation plans, underpinned by information and communication technologies (ICTs) and timely preparation by telecom operators.
Technology plays a pivotal role at each stage of disaster management, from early warning and mitigation to response, and then to post-disaster recovery and rehabilitation.
Collaborative action on the ground
To prepare for the upcoming disaster, the Indian government had already implemented standard operating procedures (SOPs), whereby telecom operators initiated inter-operator roaming services that let mobile phone users switch easily between networks based on availability.
Priority call routing enabled rescue and relief crews to coordinate with government officials, including in the vital restoration work in Tauktae's aftermath.
On-site diesel and battery back-up were ready to mitigate any power cuts, while coordination was stepped up with the National Disaster Management Authority, the National Disaster Relief Force, and central, state and local governments.
Challenges for operators during disasters
Telecom and ICT operators form the backbone of connectivity across the world. But ICT services can be hard to maintain – let alone expand – during earthquakes, tsunamis or a pandemic.
Natural hazards often damage towers, power generators, cables and wires. At the same time, network congestion arises as people call family and friends, frequently hampering rescue and relief operations.
Amid the COVID-19 pandemic, telecom and Internet usage have surged everywhere.
Meanwhile, with shops closed, pre-paid mobile consumers could not recharge their credit.
Still, telecom operators maintained the continuity of services and facilitated online recharges for pre-paid users.
By the time of the May 2021 cyclone, lessons from both before and during the pandemic, had made India's telecom networks more robust and resilient, with sufficient adaptability and scalability to handle demand spikes.
How operators can prepare
Access to robust and secure ICT infrastructure is critical. Putting resilient networks and disaster management tools in place well ahead of time helps to mitigate negative impacts.
Wherever feasible, telecom operators must upgrade to 4G or 5G, as well as educate staff and raise awareness among customers on how to withstand disaster situations, including recharging subscriptions online with mobile devices.
Inter-operator roaming agreements can ensure continuous service for all customers in a disaster-affected area, even if the infrastructure of one or two operators suffers damage. Along with temporary solutions like CoW, operators can turn to satellite-based plug-and-play networks to stand in for damaged terrestrial infrastructure.